A family-run business with
30+ years

of expertise

When it comes to high-quality environmental cleaning services, reputation is everything. That's why Wipeout is proud to be a family-owned business with more than 30 years of excellent reviews, happy customers and successful jobs under our belt.

Our key focus is always to provide the best possible experience to our customers. We go the extra mile to provide a personal, friendly, and experienced service no matter how large or small the job.

We're committed to transparency and forging ongoing relationships with our customers to form connections that can span decades.

So if you're looking for a flexible, professional cleaning service in Surrey or the London area, we're the ideal choice for you. Find out more about the Wipeout team here.
Removing the most stubborn dirt, stains and paint with care
At Wipeout, we approach each job with the personal care and attention needed to achieve excellent results.
Our years of experience and high-quality equipment allows us to carry out fast and comprehensive cleaning in the Surrey/London area for anything from driveways and patios to delicate brickwork and facades that need an experienced hand.
We take great care to ensure we're working with the best chemicals and equipment for your individual needs – because one-size-fits-all rarely fits the bill. Call Andy's mobile on 07974 357174 for urgent advice or use our contact form.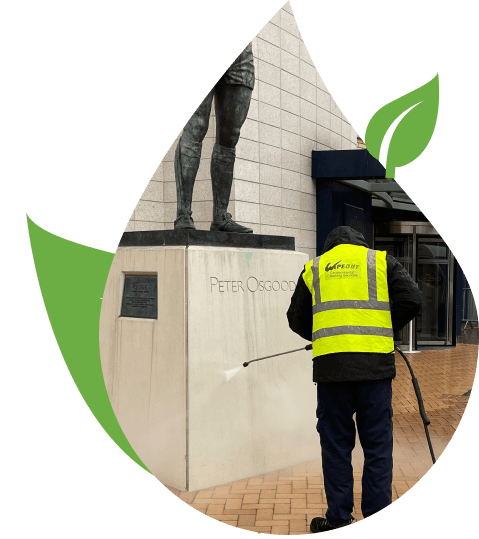 We're always honest with our customers about what we can do.
Excellent reputation and the quality of work

It may be tempting to DIY away that graffiti or purchase chemical treatments from your local shop. But without the proper care and expertise, you could be doing more harm than good.

Our fully mobile service is all-inclusive

With our specialised equipment, we're able to clean a wide range of surfaces quickly and effectively without needing to access properties, disrupt businesses or take time out of your day.
Our happy customers
Working with Wipeout made finding a solution to removing the graffiti from multiple places around the site really easy, especially with timing challenges around our operations. Communication was clear as well as costs, and as much as we're hoping not to use them again, they would be our go-to for further help!
Wipeout has been providing Engie Services Ltd /The Royal Borough of Kingston a service for graffiti removal, anti-graffiti coatings over the years. We have found Wipeout to be very helpful in all aspects of our works to them, and communications have been great. Their interaction with us has been excellent, and if any issues arise, we are always informed.
Wipeout help us with all our graffiti removal needs, always exceeding expectation and offering great value for our residents